Oh, so that's why.
Overpriced media specialists 2entertain have just announced the release of the five final episodes of the RTD era of Doctor Who in a blu-ray collection 'Doctor Who: The Specials'.
It's a classic "penny drops" moment, in the light of the earlier decision to exclude release the first four series only in the latest DVD box set. That said, if the blu-ray release features exclusive extras, there'll be trouble. Still, jolly good show.
So, mere months away from a point at which the entire, self-contained RTD era of Doctor Who (and the wholesale rebranding exercise of the Moffat production suggests that we are free to consider it as such) could be collected in a boxset, and what is this we find about to be released?
A series 1-4 boxset. Containing everything but the specials.
WELL DONE.
As blethered about on Twitter. Listings are here; 10% goes to Children In Need.
Not sure I'd pay a single penny for a Voyage of the Damned script, but who knows what else might show up…
Lots and lots has been going on in the world of Doctor Who recently, and after the Matt Smith based excitement of recent weeks we've been brought back into the present thanks to that annual collection of whooping imbeciles, Comic-Con.
(Some of the below could be considered to be mild spoilers, but it's all stuff released through official channels, so I wouldn't worry too much.)
So, it's looking like we'll be seeing Matt Smith as The Doctor very, very soon. The Mirror reported last week, among an assortment of other rumours, that the new publicity pictures should turn up on Tuesday. However, a comment by Ben Cook on Twitter (DWM journalist and co-writer of RTD's A Writer's Tale) seem to suggest (if you don't mind making an assumption) they will be released tomorrow morning:
I'm on the BBC Breakfast sofa tomorrow @ 8.45am-ish (BBC1) to talk about… well, guess what. :P Love a bit of live TV! Watch yeah? Thanks.
We'll be keeping an eye out at midnight just in case someone posts the picture(s) the minute the embargo is lifted, but either way tomorrow should be fun, what with this and it being the first day of filming for the new cast and crew.
EDIT: LOTS OF LOVELY PICCIES (updated 13:00):
I believe that my Sherlockian hat is the only one I haven't yet talked through for NTS, so you'll just have to take my word for it about my excitement that Steven Moffat & Mark Gatiss's long-trailed Sherlock Holmes contemporary drama has been acknowledged by the BBC. I'm just slightly pleased that what's effectively a sequel to the magnificent Jekyll, staring my favourite literacy characters, is in the works. Not even the superhero vibe that the series is purported to adopt can dampen my mood- I'm part of the certain group of Holmes fans who positively enjoy seeing their hero reshaped to the demands of other genres. Plus, if Russell T Davies' Italian tale is anything to judge by, we'll be getting an early preview of Benedict Cumberbatch's twelfth Doctor…
The casting of Scottish actor Karen Gillan as the full time companion for next year's fifth series of Doctor Who has caused the expected kerfuffle in the media, with even casual fans indulging in a moment of speculation as to her unnamed character. At NTS towers, however, we have simple tastes. We like to focus on less visionary questions. And after viewing the publicity shots issued by the BBC, we're more preoccupied by matters such as "Does it look like we've got a new TARDIS exterior for the next series?".
Analysis after the jump.
So those rumours about an older companion in one of the Who specials were true. Lindsay Duncan, 58, has been cast as Adelaide in the second of the upcoming specials.
Marvellous, frankly. I'm all for shuffling about the companion dynamics, and RTD - non-stupid that he is - is clearly mindful of the popularity of Evelyn Smythe. I'd like to think that in the third one we might get a male/female pairing, or a robot, or an alien, or a talking penguin, but we also know that he'll probably be on his own for at least one of them - and it can't be the fourth, because he can't be on his own when he regenerates. So I'm laying bets now that there'll be no proper companion for the third, and Martha (and possibly Mickey and/or Jack) will be back for the fourth. You heard it here first.
Tomorrow's issue of Doctor Who Magazine includes the announcement that this year's Easter special will see the series upgraded to High Definition. What makes this surprising is the about-face it represents towards the creators' previous opinions. Like the production team of every other TV fantasy programme, Russell T Davies & Co have always been at pains to remind us that their creation is "the most difficult show to make", and previous interview comments were pretty categorical that HD Who wasn't practical politics. The "bedding in" of the technology on Torchwood suggests that this has been planned for some time, although it's a bit of a stretch to claim that that James Strong has been appointed director purely on the strength of his HD experience.
There's been a bit of speculation that this will see a new console room in order to stand up to the scrutiny of a sharper picture, but this seems rather unlikely. If there was every something to be left as a means of ringing in the Moffat era, it's the change of "desktop wallpaper"…
So Michelle Ryan probably won't be the companion in 2010 (unless Moff reuses the character), and Lee Evans is in it. And it's on a bus. So it's Delta and the Bannermen, right?
As sure as eggs is chicken ovulations, the recent announcement of the identity of our Eleventh Doctor has brought about a whole new round of tedious guess work on who will be his first companion. Will they be female? Male? Young? Old? Alien? Modern? Historical? Me? Only tedious guess work and lists will give us the answer!
… and I'm not happy.
I don't care how good he is, he's too fucking young.
I do reserve the right to reevaluate this kneejerk reaction, but this is the first time I've been in any way disappointed by a new Doctor announcement, and it HURTS.
BBC News have made one of their traditional "pre-announcement announcements", this time that the eleventh Doctor will be confirmed in a special edition of Doctor Who Confidential at 17:35 pm on the 3rd of January.
NTS reserves the right to be staggered if it's anyone other than Patterson Joseph.
CBC being the Canadian Broadcasting Corporation - the same fellows who provide funding for the series, and get mentioned in the end credits. Which means they'd treat the show with respect, yes?
Silva Records has now made the Doctor Who Series 4 soundtrack available as a download, in advance of the CD release later this month.
http://www.silvascreenmusic.com/ishop/299/Murray-G…
Much as I hate to say it… I'm kinda glad. A regeneration as the climax for the specials - and Moffat choosing his own Doctor - is just too irresistable for me to, erm, resist.
… that (according to well-connected comics gossip king Rich Johnston) Paterson Joseph might just be Steven Moffat's first new Doctor, in the 2011 series.
Of course, he's basically already played the character once. Take all of this with a pinch of salt, of course, but if it's true… well, I've been saying since 1996 that he'd be perfect for the job, so count me excited.
File this one under "believe it when I see it", not least because I consider the chances of Ecclescakes doing anything else Who-related within about a decade as pretty low. Could be good fun if it happens, though. Also fun is the bad-grammar-induced hilarity of the following paragraph :
He was followed by Peter Davidson from 1981 to 1984, whose daughter Georgia Moffett has also featured in the programme and who is now dating the current doctor, David Tennant.
I mean, they had good chemistry in Time Crash, but even so…
Genius.
… winning the Hugo for Best Dramatic Presentation, Short Form for an absolutely staggering third year in a row. It's hard to disagree with the award, given that "Blink" is not only the best episode of New Who, but quite probably the best thing that's been on telly in years if not decades; but on the other hand, there's a nagging feeling that maybe, just maybe, it should have been Paul Cornell's turn this time out, given that - all things considered - "Human Nature" is perhaps a deeper and more substantial piece of work (and because he's already lost out to Moff once, although once again you couldn't really argue with the "Empty Child" win).
Anyway, congratulations to Moffat (and indeed to all the other Hugo winners), and the win once again shows that the programme really is falling into the absolute best possible hands in 2010…
Just a quick reminder that this is on tomorrow morning - that's Sunday 26th July @ 11:00am on Radio 3. More details about the programme can be found on on the Who site.
One of the first exciting things to come out from this year's San Diego Comic-Con is this slightly extended trailer for the 2008 Doctor Who Christmas special. Hurrah!:
Right, firstly, I can't actually link directly to this, because in the BBC website's infinite wisdom, it changes the Feedback page depending on the site based on the referer - so if I directly link to it, it'll go to the normal Feedback page rather than the Doctor Who one. Absolutely abysmal website design.
So, you'll have to go here, and then then click on FAQs at the bottom.
Who spoilers follow, folks :
You'd have thought it would have taken longer than this to be scrabbling round for ideas.
On this of all dates, it's being reported by Outpost Gallifrey that legendary BBC producer Verity Lambert has died. BBC have yet to report/confirm the story.
Only in crappy Windows Media and even crappier RealMedia for the moment - but still, of course, worth a look. How gorgeous is that blue-lit shot of the TARDIS (shame about C'ne F'ng T'te in the foreground, like)?
Preview clip on Youtube right now...
http://www.youtube.com/watch?v=LW_Fz1JiopM
Neil Hannon to do Song For Ten.
I'll repeat that : Neil Hannon. To do Song For Ten. Holy flying fuck.
http://www.timesonline.co.uk/article/0,,22877-2407543.html
Blimey, I don't know where to begin with this. I've happily defended Russell Davies in the past - I genuinely think he is a good writer, and it was his enthusiasm which brought Doctor Who back to the mainstream after all - but then he comes out with some total arse like this, and it makes me wonder why I bother.
I'm currently watching Remembrance of the Daleks, the 25th Anniversary Who serial. I've just watched Part One, and it's pretty great stuff so far. The Doctor and Ace have a really good dynamic, and it's got Michael Sheard in it. (Oh, and DALEKS COULDN'T CLIMB STAIRS UNTIL RUSSELL T DAVIS MADE IT SO, HE DID, IT'S TRUE.)
Prepare yourselves...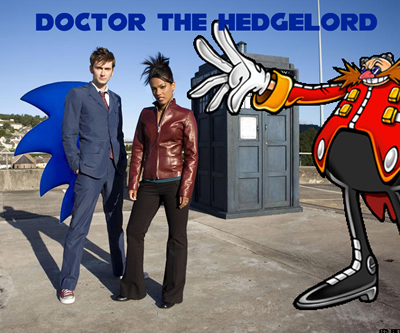 Haha, not really. I tricked you. This is a clever joke based on the fact that the Doctor wears a blue suit and has red shoes. Do you see?
Continuing the BBC's excellent tendancy to publish out of print Doctor Who New Adventure books online and for free, we now have this.
Nightshade is one of the earlier New Adventures books and written by that fine fellow Mark Gatiss, who's gone and wroted 'The Unquiet Dead' and 'The Idiot's Lantern' for the new series.
So, why not fill in the long and miserable wait for Torchwood with a bit of a good ol' fashioned New Adventures goodness.
It's looking that way. See Steven Bagley and Rob Ford's posts. Most of the buzz surrounding Torchwood seems to confirm that that series is still being shot in HD, though.
A shame about Who, if it's true. Still, Series 4 will almost certainly be HD.
When you're reporting on the non-story (at least, in the sense that it's not national news-worthy, nor is it particularly new today) of Russell T Davies' Doctor Who Magazine-published admission that a Rose spin-off was commissioned and well into the planning stages before being canned, and when there's another, quite well-known and well-hyped spinoff in the works, is it really that wise an idea to put the story under the front-page headline of Doctor Who spin-off "cancelled"
The first Doctor Who serial. The first episode is one of the finest television programmes ever made, but after that... well, it's just a huge pile of tedious boring old cack, isn't it? It takes a special kind of incompetence to come up with such a great idea for a series, fill it with great regular characters, and then manage to bore the audience half to death.
Not an original opinion perhaps, but nonetheless the CORRECT one.
Oooh!
/ 10.08.06
David Tennant returns to his role as the tenth Time Lord and meets his brand new companion, as filming commences on the highly anticipated third series of Doctor Who for BBC ONE.
On Fear Her:
"...the moment when the Doctor takes the Olympic torch was just arch, unconvincing and unnecessary."
I loved that!
On Army of Ghosts:
"The Ghostbusters gag induced a cringe; the Eastenders and Trisha skits were crass..."
I loved that an' all!
The point I'm trying to make? That there's a specific type of humour in those instances that I love - indeed, those were the moments that stuck with me after watching the episodes.
From the latest issue of Ariel, the BBC In-house mag (as mentioned on the Restoration Team forum):
No, it's not a L&H DVD release. But it's still excellent.
Yes. Also being shown daily on BBC ONE - exactly like Series 1.
Just thought I'd start another story to discuss them, so people who don't want spoilers can keep away...
She, of course, played Adeola in Army of Ghosts (our review of which should be coming this evening), but will be playing a *different* character in Series 3, named Martha Jones. How are they going to account for that then? Whatever happens, she won't be in the Christmas episode, but will presumably be introduced fairly early on in the new series.
They're so going to kill her off, aren't they?
Also, according to OG, Stephen Fry's no longer doing his episode. Bugger!
Peter Kay. In Doctor Who. As the Abzorbaloff.
Warning : Not suitable for those who've just had their tea.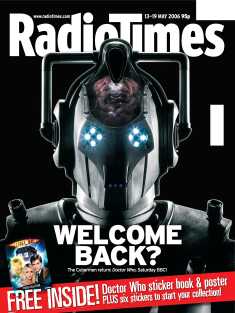 Just... beautiful.
A Times Online writer attempts to prove the popularity of Doctor Who is symptomatic of our cultural infantilisation in a shockingly badly written comment piece.
I apologise in advance for this. I didn't want my first NTS post to be a whinge, but by crikey, this article has really wound me up.
God, The Doctor Dances (yes, I did just watch it again) really is just the best episode of anything ever, isn't it?
It's got everything. It's funny. It's scary. It's clever. It's well-paced. It's beautifully-shot. It's gripping. It's just a wonderful forty-five minutes of television.
SEE WHAT I DID THERE.
Anyway, apparently (well, I say "apparently", but it is a BBC press release; the wires, however, don't seem to have got hold of it yet) Peter Kay is going to be in Doctor Who. Hm.
... but it really does speak volumes for the programme's success.
Erm, folks. I've got some bad news. It's not "cult" any more.
(and yet still, STILL, a US broadcaster refuses to pick it up. Crazy. Sci-Fi Channel, I'm looking at you.)
... but you may be about to lose the title of "Best DVD menus" :
Fly around the TARDIS? Too right.