About Noise To Signal
Noise to Signal was founded in late 2005 when the writers of a Red Dwarf fansite decided that, hey, there were quite a few other subjects about which they'd rather like to collaborate on writing. The site has since expanded its roster of regular writers, specialising in a variety of areas, and has also featured guest articles from a number of contributors.
Its remit was, and remains, a fairly simple and wide-ranging one - we write articles, reviews, blog posts and interview features covering almost all forms of media, most frequently alighting on television, film, comics, music, literature and the web. With the odd exception (such as our occasionally-regular series of Doctor Who reviews), we don't stick to a specific schedule or structure - articles are written voluntarily, rather than being commissioned, and are published when they're ready rather than (usually) aiming to a specific deadline. We don't do a great line in advance reviews as a result, but we'd like to think of some of our reviews as the sort of thing you can read and discuss after the event. Indeed, our articles are often as focussed on the past as they are the present and future.
Save for some copyediting, our articles don't tend to go through an editor - as such you'll usually find the uncompromised opinion of a particular writer rather than anything that could be described as a group-wide consensus. We also don't censor our language, so on occasion those of a nervous disposition may want to look away - although naturally we stop short of anything overtly distasteful or libellous.
We welcome active discussion - positive or negative - about our writing, and we do not require that readers register on the site in order to have comments published. However, if you're a regular visitor, registration is encouraged in order to help foster a sense of community - and to discourage spamming and troublemakers, comments by unregistered users are moderated.
If you're interested in writing for the site, please drop us a line - we're always interested in bringing in new writers who are able to demonstrate enthusiasm, knowledge and clarity. And we're a nice bunch, honest.
Editorial Staff Philip Alderman, Jonathan Capps, Julian Hazeldine, John Hoare, James Hunt, Tanya Jones, Michael Lacey, Seb Patrick, Austin Ross, Ian Symes
Contributors Louis Barfe, Josh Barton, Andrew Edmark, Andrew Ellard, Rachel George, Jeffrey Lee, Phil Reed, Mark Thompson, Sue Ward
Site Design and Coding John Hoare
Additional Graphics Seb Patrick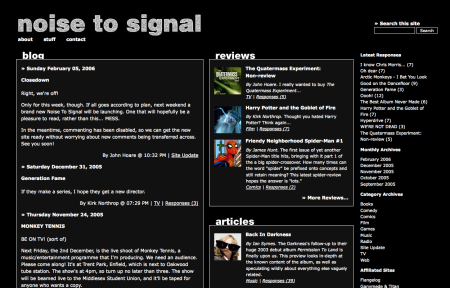 Feeds
We currently provide two feeds.
More specific feeds coming soon, for those who want them - watch this space!
Disclaimer
Please note that any opinions expressed on this website are to be considered the opinion of the individual writer and/or commenter, and not necessarily that of either the site as a whole, or any other writer associated with the site.
Licencing
All articles on this site published from 24th July 2008 are © Noise To Signal and the respective authors. All articles published before that date are under this Creative Commons licence.