Doctor Who - Gridlock
"He's completely mad!"
"That... and a bit magnificent!"
I tell you what, series 3 hasn't been half bad so far has it? Ok, so before Gridlock it's only two episodes old but everything seems to be slotting into place very nicely already. Martha is proving to be a strong character, acted brilliantly and sexily by the brilliant and sexy Freema Agamemnon, David Tennant seems to have grown bored of smug gurning and instead is showing very positive signs of completely nailing his character, and even Russell's opening episode was brilliant! It's like series 1 all over again with building excitement week by week, rather than the slightly empty disappointing feeling that series 2 brought all too often.
So, into episode three and we're back to everyone's favourite big, Welsh, Wallace look-a-like Russell T Davies. It's always hard to judge just what his episode will be like, as they can be pure brilliance (Rose, either of his finalés, Smith & Jones), a massive load of cack that makes me want to die (Aliens of London/World War Three, New Earth) or, more commonly, flawed but ultimately passable episodes (The End of the World, The Long Game, Boom Town, Tooth and Claw, Love & Monsters). And that's always bothered me… for the lead writer of such a brilliant show, he doesn't have the sparkling track record that he should.
So, with that in mind – deep breath – here we are again on New Earth and in the city of New New York. It's a location that is steeped in mediocrity, so could Russell save his new location with a storming third instalment to his Year 5 Billion trilogy? Well, it certainly had a lot going for it; it was billed a darker episode, it features the new and improved Doctor/companion dynamic, it promised the Face of Boe's secret and Ardal O'Hanlon is a cat person! To be honest, already it's leagues ahead of New Earth, so I expected it to be a good episode.
I didn't, however, to be one of the very best episodes of the New Series. I tell you what, though… it bloody was.
Ok, so first let's get the obvious stuff out of the way. The CG was incredible. This looks like it's The Mill's biggest episode of the year (in keeping with the tradition of the 5 Billion episodes always being the most CG heavy) and the effort put in really shows. The one restriction that's obvious (and has been mentioned in Confidential) is the fact that all the cars look exactly the same, but that's not a problem at all. The uniform design of the cars really adds to the effect of the traffic jam – a perfectly symmetrical block of bleakness. The Doctor's entrance on to the motorway and his later decent through the levels is beautifully realised and contains some very impressive green screen work. TV just shouldn't have effects as good as these.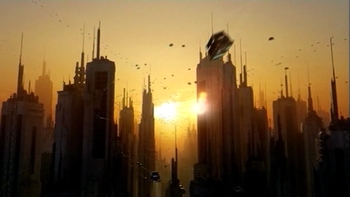 So, Martha's kidnapped by two car jackers with their wits about them, as before they even bother getting stuck on the motorway they know they need a third passenger to qualify for the fast lane. The only problem is that once they get to a certain point, they're resigned to having to wait around for six years before they reach their destination on the surface... but everyone is heading for one place or another on the surface. The assumption is that if they wait long enough they'll get there. They wont. The whole idea of being stuck in a traffic jam of years seems like a heavy handed satire on our current traffic situation, but it's saved from clunkiness with the inclusion of some nice layers (no pun intended). The sense of community we see with the Daily Contemplation and hymn-alongs puts forward a nice message, and even stops The Doctor in his tracks for a moment. Does he really have the right to question this situation, when everyone seems perfectly happy enough all driving towards their goals together in one big group? Well, yes, he does, obviously. He's The Doctor and he can do what he likes.
Besides, things aren't right. These people are perpetually caught on the motorway, forever sealed in the lower levels in the last desperate act of the Senate to save as many people as possible, after a drug induced virus wipes out the planet's population. To make things worse down there, the malfunctioning extractor fans at the bottom of the motorway have allowed a certain colony to thrive and terrorise the fast lane. Macra. MACRA!
Now, their inclusion in this episode is a nice touch. A really nice touch. Firstly, and more obviously, if you want to have a race of massive crab creatures, and the original series already has a perfectly good species in canon for you to use… well, you gotta use them, haven't you? So, exactly 40 years after their first appearance in the Troughton story The Macra Terror, the big crabby things are back. But pointless nostalgia doesn't seem to be the driving force behind this comeback, as on closer inspection Gridlock looks more and more like one big homage.
In The Macra Terror, The Macra have taken over a human colony. Basically, the sentient crab bastards use mind control to trick the inhabitants into thinking everything in peachy, when in fact the entire colony are being used as slaves to mine precious gas for The Macra to feed on.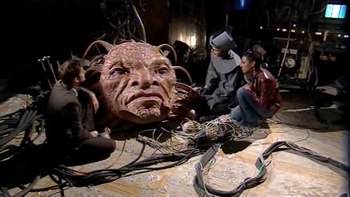 Fast forward to the year 5 Billion and something or other and it seems The Macra have devolved into creatures based on pure instinct and are happy gobbling up the dirty exhaust fumes from the traffic jam. This time, though, the whole situation was brought about from mind altering drugs (or 'moods') which have simultaneously killed most of the planet, caused the eternal traffic jam and made damn sure that everyone in said traffic jam is doped up to their eyeballs in whatever mood they fancy - effectively keeping them all down there, asking no questions. The Macra are living off the fruits of a situation very similar to the one they created in The Macra Terror, only this time they didn't need to manufacture it. Humankind did that for them. And that… that is why The Macra's reappearance is a stroke of brilliance, because the whole situation is built around their entire original concept, without them having to lift a claw. Physically they certainly aren't that significant in the episode (serving only to snap violently at cars and provide an imemdiate threat to Martha), but the themes are all present and correct, plus a hefty dollop of some quite damning comments on human nature and how it can lead to our ultimate demise without our enemies even trying.
I've used the word Macra far too much in this review. Macra.
So, what else? Ah, yes, Ardal O'Hanlon! The boy's most certainly still got it, even after a number of years stagnating in My Hero. The character of Brannigan is funny, lovable and one of the best guest turns the New Series has seen. His quote at the top of this review shows one of the things I love about the character, and that was his obvious adulation of The Doctor. He was the very embodiment of the hope seen in the traffic jam and every moment with him on screen was a joy. The odd and entertaining characters didn't stop there, as was seen by The Doctor's decent to the lower levels through a number of cars (meeting a number of weird and wonderful people) with 2000AD's Max Normal homage being the Doctor's last stop and highlight "I say, is that legal?; Let it never be said I've lost my manners". Excellent.
For me, however, what elevated this episode from excellent to just utterly brilliant was the thing we've all been waiting for: The Face of Boe's message. Not only that, but The Doctor's reaction to said message. "You are not alone" booms a dying Face as the Doctor performs the facial equivalent of shouting "WTF, FACE BOY?!".
To cap it all off the episode is topped and tailed with two brilliant scenes referring back to The Doctor's dead home world. The episode opens with a lovely scene involving Martha wanting to visit Gallifrey. The Doctor neglects to tell her it's all blewed up, but for the first time in the new series he actually starts talking about it, describing the "burnt sky" and the citadel encased in a huge dome. It's a lovely moment, and one that is reprised fantastically in the last scene when The Doctor finally comes clean to Martha about its destruction. The episode ends with a spine tingling performance from Tennant as The Doctor continues his previous reverie, echoing words last spoken by Susan in the Hartnell era story the Sensorites. What a way to end an episode and what a way to start what could well be the best arc the New Series, or even Doctor Who as a whole, has ever seen.
Perfection.

About this entry
Posted on Friday, April 20 2007 @ 9:00 pm
Tagged with doctor who