Doctor Who - Partners In Crime
After watching Torchwood's finale and Who's premiere on subsequent nights, I'm faced with a dreadful reality - Torchwood was waaay better. And it wasn't even that good. It was just exciting enough that you didn't really question the stupidity of what you were witnessing until it was over and had served its purpose, something which Partners In Crime simply didn't manage.
Tate showing off she's not only a shit comic but also a shit actress.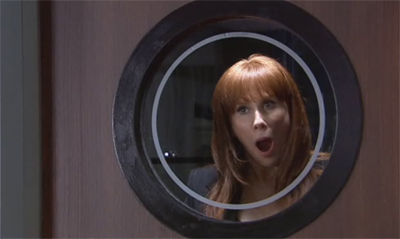 When Doctor Who was first launched, in black and white times, it blew everyone's tits off. This much we know. It had a unique central concept which offered infinite storytelling possibilities, and it made rich use of them. Then, over time, the series got bogged down in its own mythology, made dubious overtly populist casting decisions, and die-hard fans across the land were in uproar. The thing is though, that took about twenty fucking years, or something. RTD's much-lauded reboot of the series has managed a similar feat in a much shorter time period, and sadly, Partners In Crime does little to dispel the idea that the series is set firmly on a course to disappoint essentially the kind of people who are likely to be reading this review, unless NTS is performing better than I'm aware of in the mentally subnormal or 10 years and below brackets.
Series One had it's flaws, but even the clunkiest episodes gave off the feeling that they were striving for greatness. Over time, the professionalism of the typical episode has risen - there are fewer moments where you feel you're watching a school play and things zip along at a pleasing pace, the characterisation of the Doctor is much improved and the music, while still over-used, has improved immeasurably since S1 (they still haven't quite figured out how to do "light" episodes like this one, mind). But the ambition has all but evaporated. When this Who relaunch first started gathering pace, did RTD and his team imagine they would be getting Racquel off Coronation Street to hover mid-air, flailing her arms like Wile E Coyote, before plummeting to the ground? Were Road Runner cartoons an influence cited in their brief for reviving a seminal Science Fiction series? Or has everything just gone a bit fucked? I'm inclined to believe that everything has just gone a bit fucked, and they might have been better taking that year off this year rather than next.
Second Opinion
Oh no! Doctor Who's shit!
I'm finding it hard to formulate my thoughts on series 4's opening episode properly, because every time I sit down and try to organise some rational opinions Catherine Tate pops up and starts shouting "I DANT WANT TO MATE WIF YOU, SUNSHINE!" and I break out in an anger sweat. Nothing more really needs to be said from me on the Tate matter other than I am one of the people who was genuinely upset at the news of her two castings, hated her in The Runaway Bride and now hates her just as much after her first proper episode. I'm never going to like her, so effort has to be made to look past her stupid Lauren face and judge the episode regardless.
And it's still shit. The central premise of the alien diet pill is so offensively boring it's lucky that the planet seeding/nanny angle was a vaguely interesting idea to boost it some. Sarah Lancashire is obviously a great actress but she was wasted on a bland, by the numbers evil businesswoman character that I'm sure we've already seen in Invasion of the Bane. The resolution to the whole main story is as uninspired and dull as the rest, and I'm left thinking that it serves absolutely no purpose other than to 'cleverly' introduce the Adipose for later involvement in the show.
In fact, one of the more favourable aspects of the episode was the fact it was shot pretty much bang in the middle of the schedule which has allowed nice little hints to be let in, such as the missing bees and that blonde one from an alternate Universe.
I honestly thought Russell had nailed the opening episode problem with Smith & Jones but instead he's just gone and made the same episode again but with a fraction of the wit, ingenuity or imagination we saw last year.

Out of four series openers, three have started with shots of women walking to work. One of the few things that didn't piss me off about New Earth was that it flung us right back into the action, and given that Doctor Who is the most popular programme in the earth and no actual new characters are being introduced in this episode, why do I need to watch Catherine Tate walk to work, accompanied by jaunty music? The episode ACKNOWLEDGES the lack of a need for an audience surrogate at this point by refusing to explain a new gadget the Doctor is running about with, or the psychic paper that he uses about ten times. Can DOCTOR WHO not just be the main character of an episode of DOCTOR WHO for a bloody fucking change?
There were scenes I enjoyed - the sonic device battle in a window-cleaning thingy was tense and well handled, Bernard Cribbin's appearance as Steve Zissou was welcome, the one I'll come to in a minute, and Tennant's Doctor is obviously, by now, down pat, and had a nice moment alone in the Tardis. But far more frequent were the scenes when I thought, "I'm watching a programme aimed at children. A programme which used to straddle age divides and unite families, but now exists solely for the very young and very old, and does not treat me with any intelligence whatsoever". To whit - the Pilsbury dough-man aliens, the emotional chats which went on so long I considered suicide, the idiotic comedy routines which went on so long I considered ever more complex methods of suicide, the "so you're basically like SUPERNANNY, incase anyone has failed to get this?" line, the fifteen scenes where it cut back to Doctor Who and he was just standing by that rubbish computer in a cupboard thing doing very little at all, the thuddingly familiar plot elements (sinister businesspeople) and all the bits after Catherine Tate bumped into Doctor Who and turned into a screaming thicko again.
Possible shots at redemption for this series so far - Moffat's first two-parter since Series One, the return of all that lot, the possibility of thingyo as the big villain, no romantic arc between the two leads, the overall series arc thus far having been not been laid out in detail by tabloid newspapers. On the strength of this episode, essentially the worst series opener yet, it seems more likely that Series Four will mimic Series Three in that the good bits seem to exist in their own little bubble, incapable of redeeming the whole. Roll on M*****t and C*****e.
And as for THAT moment, at the end? Well, I didn't really see it coming, and frankly, it gave me such chills that I'm almost inclined to forgive this episode the rest of its sins. It was ballsy, undercuts the importance of us all being spoiled a while ago about Rose's re-appearance and hits at a more serialised format that the series would definitely benefit from, as I don't imagine we're due an explanation anytime soon. That music, too! It was great, But to be honest, it was largely great because it reminded me of a time when Doctor Who was less likely to appall me, which feels like a long time ago.

About this entry
Posted on Tuesday, April 08 2008 @ 2:12 pm
Tagged with doctor who