This Mitchell and Webb Book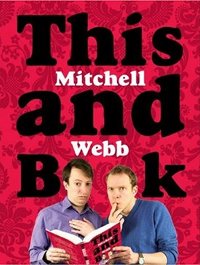 By David Mitchell & Robert Webb
Hardback, 288 pages, 3rd September 2009, Fourth Estate Ltd, £9.49 (Amazon)
---
Before getting this book, I was reaching the view that the era of the decent comedy tie-in book was pretty much over. I'd browse the Lee and Herring Fist of Fun book, or the NOT! book, and sigh that there seemed to be a lack of will to mine the seam of more slow-burning material that a book can give, opposed to the immediacy of TV and radio. However, I'm pleased to announce that the Mitchell and Webb book is a proper TV tie-in book from the old school, with special photo shoots and a minimum of recycled material (a few articles first published on the Guardian website).
Of course, most of it is based on characters and sketches from the show, but there's also some excellent stand-alone material with Great Flat-Share Fridge Note Discourses between such odd couples as Darth Vader and James Bond, and Peter Mandleson and Keith Harris. Other material just for the book includes some lovely '70s public health campaign parodies, a pitch for a working-class sitcom (giving us a very funny email exchange between two nobs at the Beeb), a painfully spot-on parody of Observer Woman, Mundane Quotes of the Great, suggestions for tabloid puns (highlight: 'You're The Wan That I Won't!'), an amusing collection of old Mitchell and Webb photos, David Mitchell's Stalker's Diary, and a great line in Mitchell and Webb Products. You too will wonder how you managed without the Mitchell and Webb Allen Key.
But! We're STILL not finished with the original material. A particular joy for me was Robert's Failed TV Pitches, especially as I struggled not to laugh out loud on the tube at Not While I've Got My Strength, but their parody of their own Mac vs PC ads is also a lot of fun, and it'll be interesting to see just how many people snigger at their section on The Mighty Boosh, included for those bought the book by mistake by their auntie. Snigger.
So, what of the characters we know and love? This is really where the book format comes into its own, as the Peter DeCoursey material is far, far superior to the radio and TV sketches. Peter has an Altitude interview, with sublimely amusing photos, and the cover of his autobiography is essential for anyone who didn't really get on with the snooker commentators before. Captain Todger gets some well-deserved attention, there's a lovely Digby and Ginger's Game of Life and Death, and we have more fun with the Lazy Writers and Money Saving Tips for the Current Emergency. REMAIN INDOORS.
In conclusion, this is probably the best value for money that you'll get all year, and deserves to be on everyone's coffee table. Even in London's prestigious Amersham area.