Torchwood: Children of Earth (Friday)
M'learned colleague Mr Hazeldine is unfortunately unavailable this Friday evening, although rumours that he's zapped himself off up into a spaceship somewhere to avoid having to pull together a reaction to Day Five have yet to be confirmed. So I'm afraid you're left with me to somehow figure out what to say on the final day of our week-long Torchwood extravaganza…
Day Five
Amusing captions only really seem relevant when you can still describe the programme as "entertainment", don't they?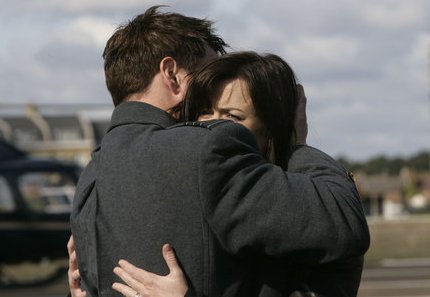 Remember during the first series of Torchwood (and, to an extent, some of the second) when we said it was far too frivolous, and how it had confused "adult" with "adolescent", and how it needed to nail down a consistent tone and just stop pissing about and instead try and tell mature, intelligent drama of a specific sort that Who couldn't?
There is such a thing as overcompensating, you know.
I mean yes, okay - Children of Earth has been an unqualified success. It's gripping, conspiratorial drama that happens to be about aliens. In terms of scale and threat, it's a blockbuster Who story - but the reactions to the threat, from government level to individual characters, are ones we've never seen explored in this universe before. But the thing is, I'm not quite sure that the extremes to which this story went really needed to be here. Death is a part of Doctor Who, of course, but there's still one rule that holds firm (even in a post-Time War universe), as brilliantly put by Lance Parkin once - the Doctor never loses. But the Doctor isn't here - and while the children of the Earth are saved, Jack loses so very much. A part of his humanity, even. And while you could argue that by turning him into a lonely, wandering rogue with a dark secret in his past, Russell is essentially placing him right back where he was when we first met him, ready for Moffat to play with once more - it's undeniable that the character we've known for the past few years, the slightly irritating and wooden figure of series one and two who still caused big smiles to crack everywhere when he showed up in "Utopia" and became brilliant again - is essentially dead. And you simply wonder why everything we've seen since Russell first announced a spinoff show was leading up to this. And this is why, as great as it is to see a Nigel-Kneale-meets-State-of-Play alien invasion conspiracy drama on BBC1 - and doing so bloody well in the process - I'm just not sure that this show needed to be Torchwood, or part of the Whoniverse at all.
Because as strong and relevant as some of the themes in the story are, they're not in line with the themes of a show that is traditionally about adventure, and hope, and exploration, and endeavour, and spirit. Children of Earth is about the human race, and particularly its governing figures, at their worst. Okay, so the Doctor's been at odds with authority before, but we've never had a government that actively lies, and betrays its people, and tries to cover its own arse, before. There's anger in Russell's pen, here (it also feels like his portrayal of brutal, unquestioning army grunts rounding up children was a deliberate counterpoint to he and Gareth Roberts having come off as pro-military in Planet of the Dead), and it feels like something that's built up and up over a long time until only now he's been able to express it. But again - is this the place for it? We may have complained about the over-ludicrousness of some of early Torchwood (and actually, there are still lingering threads of it here - the reason for the aliens' "use" of the children threatening to undermine the credibility and seriousness of the whole thing), and there was some pretty grisly material in series two - but nothing can have prepared anyone, surely, for the tragic closing moments of John Frobisher.
Not that such scenes aren't brilliant - and indeed, perhaps it's this aspect of the show that we should concentrate on in the immediate aftermath, rather than the to-be-dissected-at-length question of where this really fits in the escapist world of Doctor Who. Although it has to be said that where episodes three and four were damned near perfect in just about every note that they struck - I was actually slightly moved by Ianto's death scene, for crying out loud; I should have been laughing on the day Ianto finally got killed off - day five almost buckles at times under the weight of what it's trying to do. The usually capable hands of Euros Lyn seem to falter at times, with the climactic scenes involving Stephen simply failing to convince either in the bizarre effect employed, or in the earlier performance of Lucy Cohu upon discovering Jack's Plan - although perhaps my opinion of these scenes was coloured by, at this point, believing that the plot really was going one step too far in its destruction of Jack's character. Or maybe it's simply that Day Five suffers from only having Peter Capaldi for half of its duration, thus losing the immovable centre of classiness that had run through the serial to date.
While I can't say that every plot beat plays out as I would have liked, you have to at least admire Davies and his cohorts for having the courage of their convictions - absolutely nothing is chickened out of here. In this sense, this really is the point at which Torchwood has been allowed to come of age. This isn't a smirking, wise-cracking, sex-and-swearing-fuelled piece of so-called "adult" escapism - this is dark, human drama, tailored to fit the slot to which it's been moved and to stand up to comparison with this arena's better examples. And in those dramas, nobody cheats, bad things happen to good people, and the villains aren't so easily identifiable. These are the rules by which Torchwood has now decided to play - and while its position as part of a wider franchise suddenly looks harder to reconcile, and prospects for its future (from a plot point of view, that is) nigh-on inconceivable, there's no denying that it's finally made its mark as a genuinely great piece of television.