Oh Baby! Motherhood and the Media
Panorama: Right Time For a Baby?, BBC ONE, Sunday 18th June, 22:15
Mums Who Leave Their Kids, Sky One, Wednesday 21st June, 21:00
What with the current moral panic over the falling birth rate in Western societies, women's life decisions seem to be fair game at the moment. Last week two programmes were shown that demonstrated the two ways women are always seen with children: the angels that are desperate to have them, and the witches that leave them. On the BBC, we had a documentary about women leaving childbearing until later in life, and on Sky One, we had what purported to be a documentary about the phenomenon of mothers leaving their children.
Kate Silverton left holding the baby.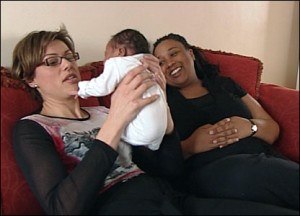 The BBC made a Panorama with the inoffensive Kate Silverton, who 'investigated' the recent phenomenon of today's modern career women having fewer children later in life. After we got over the amazing revelation that when you give women career prospects, they prefer to use them, what we got was essentially Kate visiting a couple of pregnant women and getting all emotional over their children's births (guess who'll be sporting a bump in a few months, then?), and looking concerned about a woman in her 40's who was relying on IVF to give her the baby that she hadn't wanted when she was younger. The compelling reasons for delaying motherhood in the UK were touched upon (although the bare facts were obviously not as attractive as the ickle babies); the lack of affordable childcare, the relatively low levels of maternity pay, and the loss of both career prospects and money that women having children in their 20's suffer. This all leads to the real bugbear in the media at the moment, which is women delaying motherhood until their 40's (in some cases) and finding that IVF is not the miracle cure they thought for their declining fertility.
Being the BBC, they also took what was the refreshing step of finding a pregnant 18 year old who had planned her pregnancy, and had prepared herself for the baby in a laudably organised fashion. To be honest, she seemed more confident and capable than any of the older women in the programme, and good luck to her.
Although the programme was watchable enough, and the concerns over late motherhood are legitimate enough (if a little exaggerated), it missed what were, for me, two very important points. Firstly, why the fuss over having your own child? Obviously I've never experienced the heartache of infertility, but I still can't really understand the difference in bringing up a child with which you have a biological connection, and one which you have chosen to adopt. I have heard some justifications along the lines of there being few babies to adopt, but if you're only going into motherhood with the aim of cooing over a baby, you should probably have a serious think about your motives.
Secondly, oddly enough for a programme which was focusing on the reasons why the birth rate in the UK was declining, there was no acknowledgement that there are women out there who actually don't want children, or who have chosen not to have children. Perhaps I felt defensive, being smack-bang in their demographic and being told that if I'm intending to have children, I should leave it no longer than 2 years if I'm expecting IVF to help me. I did rather feel that the message of the programme was 'Reproduce or become a lonely old woman! You haven't much time, y'know!'. In any case, I found the panic hard to understand, seeing as my mother had me at the apparently geriatric age of 34, and my auntie had no problem conceiving at the age of 40. In fact, there was no actual attempt to find out just how many women were rushing to the fertility clinic, which gave the impression that every woman over 30 was signing (or should be signing) up to IVF, when the reality is very different. Presumably, because women can allegedly 'have it all', it's assumed that they should have it all.
Still, although it was a worthy, if panicky, effort to prove the blindingly obvious, it was harmless compared to Mums Who Leave Their Kids on Sky One, presented (and starring) the fragrant tabloid journo Jane Moore. Unshackled from the requirement to provide any journalistic integrity at all, what could have been an interesting discussion about why mothers abandon their children was marred by Jane's eagerness to parade herself as the perfect mother. We were subjected to her constant assurances that she would never leave her children, and that she couldn't understand why any woman would. I thought that was what she was trying to find out, but it appeared that Jane saw the programme as a sounding board for her opinions, occasionally letting another woman get a word in edgeways. At least Kate Silverton had the decency to let her interviewees speak for themselves, but I suppose women conforming to their biological stereotypes is a far less contentious topic than those doing the opposite.
The tabloid nature of the programme shone through in Jane's interview with a woman who had written about her decision to leave her children, where Jane used the old trick of making a judgement and then explaining that 'some' people might think that, whilst making it very clear in the voiceover that it was her own thoughts. Jane was incredibly bitchy about this woman behind her back in the edit suite, in fact, rubbishing her rationale for leaving and being rather smug about her yet unsuccessful attempts at the success she felt eluded her as a mother.
Ignoring Jane's over-riding smugness, there was a lot of evidence to suggest that the women in the programme left their children due to mental health issues, extreme stress, or a realisation that they simply weren't giving their children the parenting they deserved. As hard as it may be for Jane to believe, it is possible that some women simply aren't cut out for motherhood, in which case the kindest thing they can do is to act to rectify this. Jane clearly didn't believe that this was possible, choosing instead to focus on the suffering of the children that are left, which is slightly pointless. It goes without saying that children in this position will be upset, just like they would be upset at any disruption to the family unit, regardless of which parent leaves. However, Jane decided to offer her opinion that children suffer more when a mother leaves as truth, despite having no evidence to prove this, and, bizarrely, featuring a family that seemed to be getting on very well with a single dad and visiting mother. If we take this opinion to its logical conclusion, Jane seems to be taking the very Polly Filler view that men are useless, which is hardly a positive or realistic view. It may be significant that we didn't actually see the father of Jane's children in the programme, and I certainly felt sorry for the very capable single dad who participated in the programme.
The crowning glory, however, was Jane's 'final thought' piece to camera. Holding her baby, she graciously allowed for the possibility of 'genuine' post-natal depression causing mothers to abandon their children, but concludes that all other cases are due to mothers 'dipping their toe into motherhood' and finding it all too much like hard work, despite it being said by many in the programme that the decision by a mother to leave her children is never made lightly. Jane reassured us again that she would never do such a thing. Well done Jane. The canonisation's in the post.
What the programme showed me was that every case is different, and sweeping judgements are never helpful. Given the cultural pressures on women to be mothers, and the attendant pressures of bringing up beautiful, talented and successful offspring, it's no shock that some women are less able to cope than others. Perhaps more support and the acknowledgement that producing children is a worthwhile contribution to society would mean that women as a whole would be better equipped to cope with the multiple roles expected of them. Part of this is surely recognising the contribution that a father has to make in the upbringing of his children. All of the men I know from my generation are either great fathers or would make great fathers, so it's disappointing that hacks like Moore are still clinging to the hackneyed notion that 'Mum is best' and that fathers are irrelevant. What would be best of all, of course, would be a more understanding and inclusive approach to discussing these sorts of issues, but that's not as easy as dismissing people whose actions you disagree with, eh?
About this entry
By Tanya Jones
Posted on Thursday, June 29 2006 @ 12:52 am
Categorised in TV