Back In Darkness
Artist The Darkness
Title One Way Ticket To Hell... And Back!
Released 28th November 2005
Label Atlantic
Website thedarknessrock.com
---
Mad, blonde, legendary. Roy Thomas Baker oversees Dan Hawkins at the piano.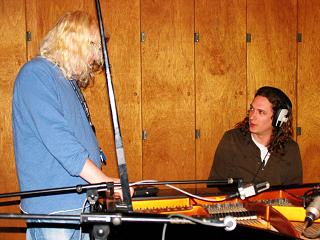 It's been a long time coming, but The Darkness's follow-up to their huge 2003 debut album Permission To Land is finally upon us. This preview looks in-depth at the known content of the album, as well as speculating wildly about everything else vaguely related.
For a start, it's expected that if you want Permission To Land II, then you'll be sorely disappointed. PtL was produced cheaply and cheerfully by Pedro Ferreira, whereas rock legend Roy Thomas Baker took the helm for OWTTH...AB. It doesn't take much in-depth knowledge of each producer's styles to notice the difference - simply compare Black Shuck to Bohemian Rhapsody...
More importantly, though, bassist Frankie Poullain has left the band. Obviously, not a single person believed the official explanation of "musical differences" as the reason for his leaving, and subsequent interviews with the remaining members have revealed huge arguments; Justin revealed in the Daily Record that the band actually split up at one point during the recording process, and that he and his brother Dan had to be seperated at some points. Frankie himself has kept quiet, presumably to avoid looking like as much as a tosser as Justin did when he told Steve Wright that Frankie was "a cancer that had to be removed".
After a suitable period of speculation and rumour, Frankie's replacement was revealed to be Richie Edwards. No, not the missing Manic Street Preacher, but rather a bald Brummie who used to be Dan's guitar tech. A sound appointment - there's not many people who know The Darkness's material, both old and new, as well as he does.
However, Richie doesn't play on the new album - Dan recorded the bass parts, as well as his usual guitar duties. Furthermore, Frankie has co-writing credits on most, if not all, the songs on the album. The album itself, therefore, might not be that different to how it would have been had Frankie not left. That's not stopped a small section of fans ludicrously over-reacting to the affair, though; they either think Frankie's a complete twat for leaving, the rest of the band are complete twats for letting him go, or even that Richie's a complete twat for taking over.
Regardless of all the nasty business that took place earlier this year, the work's paid off and the album is released on the 28th November. The title is the not-terribly-catchy One Way Ticket To Hell... And Back!. Now, surely, this is by definition *not* a one-way ticket. It should clearly have been called Open Return To Hell It is apparantly "a redemption album...full of apologies and explanations, but there is hope as well". It would seem, therefore, that we should expect an altogether more serious album than PtL.
But anyway, the tracklist!
1. One Way Ticket
2. Knockers
3. Is It Just Me?
4. Dinner Lady Arms
5. Seemed Like A Good Idea At The Time
6. Hazel Eyes
7. Bald
8. Girlfriend
9. English Country Garden
10. Blind Man
Now, some of these songs are already in the public domain, with many of them played live at some point in the last eighteen months.
One Way Ticket - First played on radio on the 3rd October, expect it to be played frequently prior to its release as a single on the 14th November. It's an anti-drugs song, telling the tale of how twatty one can be having taken cocaine. Presumably the band have changed their stance on the drug since their early days - the original release of the I Believe In A Thing Called Love EP in 2002 featurred a picture in which Dan Hawkins can be seen behaving suspiciously with a credit card in one corner.
The song is different from PtL's Givin' Up in that the negative connotations of drugs are more explicit in the lyrics; Given Up appears to be advocating the use of heroin unless you know the story behind the song. One Way Ticket starts with the sound of credit-card on table, and continues with snorting sound effects, before lyrics telling of "chewing my face off" and "my sex life is in tatters and I've still got the runs".
The solo is very effects-heavy - a sign of RTB's influence - and begins with the guitar sounding like a synthesised sitar. This is in contrast to the more natural sound of the soloing in PtL, but it is not known if it will be a theme throughout the album, or a one-off use to emphasis the trippy nature of this song. Elsewhere, the simple and catchy chorus features some great harmonised vocals, very reminiscent of Queen, and the lyrics are written with typical Darkness humour and wordplay. It's a solid start to the album, and a good omen for things to come.
It's worth noting that the radio version may be censored from the album version. There are two instances of non-rhyming synonyms for ruder words being used: (Someone was telling me I really should cool it/Chewing my face off and talking absolute rubbish) and (If they'd seen fit to join me for a couple of hits/But now my sex life is in tatters and I've still got the runs). I can't decide whether this is censorship, or just deliberately misleading lyrics from Hawkins.
The remaining songs from the album do not had a studio version currently in the public domain, so the following information comes from live performances.
Dinner Lady Arms - Performed during the Winternational Arena Tour, November-December 2004. This song has been floating around in idea form for years, and will finally surface on the new album. It's a part-acoustic love song, with the singer apologising for former misdoings and pleading to start again with his lady. It rocks very hard indeed, with a trademark catchy chorus, with a blistering guitar solo. The studio version should be a corker, and a likely future single.
Seemed Like A Good Idea At The Time - Or, if you prefer, SLAGIATT. Another song that was debuted on the Winternational Tour; it was dedicated to Sue Whitehouse, the band's manager and Justin's beau, and it seems to be the story of their well-publicised split and reunion towards the end of 2003. It's another sweet love song, with acoustic guitar and piano throughout, and an electric guitar solo towards the end. It's a Love Is Only A Feeling-style power ballad, but with the emphasis nearer 'ballad' than 'power'. It truly is a song to raise lighters to.
Hazel Eyes - Played the North American tours of 2004, but was dropped on their return to Blighty. It's an ode to girls of Celtic descent, complete with Irish motifs, both in the lyrics and the music. It's an upbeat number and is, again, partly acoustic. This is another departure from PtL, which was virtually all electric, barring parts of Love Is Only A Feeling. While nothing spectacular, it has the makings of a solid album track.
Pirate Justin Hawkins demonstrates the key-tar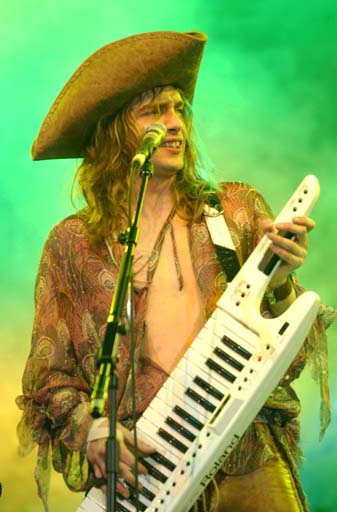 English Country Garden - Another song from the Winternational Tour; it got a lot of attention due to Justin performing the keyboard parts on an 80s-style "keytar". I think 'bizarre' is the best word to describe the song, which was described by 6Music as "like Motley Crue playing the tume tune from Blackadder II". It's a hard-rocking version of the old folk song of the same name, with dodgy sexual innuendoes during the verses. They tell tales of debauchery and rudeness during a trip to a village fete. It's definitely an interesting one - definitely not as serious as the rest of the album is supposed to be, and a hark back to silly, feel-good songs such as Friday Night and Makin' Out.
Not much is known about the other tracks, other than that Knockers and Is It Just Me? are "hard-rockers" and that Blind Man is a "big ballad". Back in the summer, Girlfriend was reported to be the first single, under the name Girlfriend, I Love You, which was presumably deemed too nauseating to appear on the tracklisting. It is not yet known whether Knockers will be about critics of the band, door decorations or breasts, but I reckon it'll be a combination of all three. As for Bald, could it be a reference to Justin's receeding hairline?
There are a number of other songs that have emerged since Permission to Land was released, but that don't appear to be on the new album. The *spit* NME said that "the group worked on almost 40 songs for the LP". It's not known exactly how much work was put into any of these songs, but it's safe to say they won't be short of a B-side for a while. Here's a bit of analysis of some of the unreleased songs. I'm ignoring rumoured titles and covers, of which there have been many, and only including those that have been played live or are known to exist in demo form.
Buffet - This hard-rocking, bassy instrumental was played on the Winternational Tour. I've included this and not other live instrumentals, such as Def In Both Ears and Dune Patrol, because Buffet seemed to be more than just an interlude. Whether the band intended to give it words at a later date or not, the song had the length and musical precision to suggest it could be recorded and released.
Christmas Time (Don't Let The Bells End) - OK, well spotted - this one isn't unreleased. But it's not uncommon for bands to include hit non-album singles on their next release. Especially as this one got as high as number two (fuck off Gary Jules fuck) and achieved the benchmark for Christmas songs - being put back on playlists the following year. I suppose it was omitted so that fans would have more completely new stuff, which is, obviously, fair enough.
Full Moon - Played on many foreign soils in Summer 2004, eventually being played at Reading and Leeds that year under the tile "I Am Hungry, Give Me Some Meat". As recently as a Kerrang! feature in late August, this was considered for use on the album. The version played live had no lyrics - Justin explained this at Leeds and Reading by saying they were still working on them. It was not an ideal song for a festival crowd, and as such didn't get the best reaction.
Get Your Hands Off My Woman... Again - The first product of the relationship between The Darkness and Roy Thomas Baker. This was recorded as an experiment to see how the band and producer could work together, and was released over the internet for a small charge. It was rubbish - the only noticeable differences being a misjudged keyboard solo in the middle, an extra guitar playing under the last chorus and the omission of the final, triumphant "motherfuuuuuuuuuuuuuuuuuuuuuuuuuuuuuuucker!". Probably never considered for the album, and rightly so.
Grief Hammer - A shock omission. Based in part on instrumental track Bareback, this lyricised version was played as the set opener on the Winternational Tour. It rocks like a bastard, and it's very surprising that it's not on the album. It was perhaps omitted on the basis that the music is so similar to Bareback. In further conjecture, I wouldn't be surprised if this was retained for the live show, and released as a B-side.
I Had A Dream - One of two songs featurred on a very early demo. The demo features Justin on piano, singing in an even higher pitch than normal. It's another up-beat love song, and it's remarkably good for such an early effort. It's probably been completely abandonned by the band, but I reckon it would do well if it was released.
I Need You - The other song from the aforementioned very early demo. A very strange song, mourning the death of a Guy on Bonfire Night. It rocks hard and features a heart-felt spoken section chastising the murderers. Again, it's never likely to be released, but it's a vintage slice of Hawkins.
Street Spirit (Fade Out) - Altogether more upbeat cover of the Radiohead classic. This was a live favourite from just before PtL was released until it was dropped for the Elf Hazzard Tour of Winter 2003. It was brought out for two last airings at Leeds and Reading 2004, to cover for a distinct lack of festival-headlining material. It's been so widely-circulated and is so well-known that fans have been half-expecting a studio version to come out at some point.
Up Shit's Creek - One of the songs performed in North America, but dropped by the time the band returned to England. It's an unusually heavy sound, offset by ridiculously high vocals, rendering bootleg versions largely incomprehensible. It's not particularly good, so it's no real surprise it's been dropped.
Wanker - This is one of my favourite Darkness songs evur. I'm gutted that it's not on the album, despite rumours that Blind Man will be a retitled version of Wanker, which have since been quashed. Yet another song that was only played in North America, it's a self-deprecating tale of groupie sex, and the protaganist's twatty behaviour in this field. It was light-hearted, up-tempo and very rude. Seemingly perfect for The Darkness, but perhaps not if the new album's serious undertones are a major theme.
They're back, and they should have gone to Specsavers.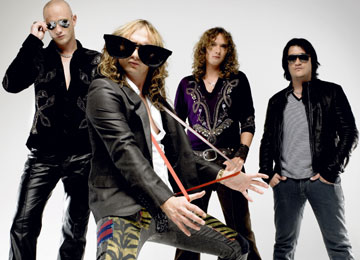 I must admit, there was time when I thought that a follow-up to Permission To Land would never be released. It was getting to Chinese Democracy proportions - a potentially all-time-great band struggling to finish new material following a sudden rise to fame and intense press coverage. Fortunately, The Darkness are not yet quite as insane as Axl Rose, and they've already recaptured the attention of their loyal fans. Our long-term frustration has turned into excited anticipation. According to all indications, the new album may well be worth the wait.
One Way Ticket To Hell... And Back! is released in the UK on November 28th, with the title track released as a single on the 14th.
About this entry
By Ian Symes
Posted on Monday, October 03 2005 @ 9:27 pm
Categorised in Music