PC Gone Mad #1 – Audiosurf
For a good number of years I've been oddly distant from the games scene, settling for blasts on Pro Evo on the house X-Box over anything more. As someone who's been gaming since the Commodore 64 this was a slightly unsettling abhorrence. Needless to say, these days I'm back in despite the fact that my gaming PC was entry level 4 years ago when I built it. I do not own a console, which goes at least some way to explain the title of this column (for which I really am so very sorry.)
I attribute my re-integrating back into gaming to the Steam community (created by Valve software) and the sheer quality of games recently released through it - one of which is the main subject of this first edition of PCGM. That game is Audiosurf. A lot of you may have already heard of it, as sections of the Internet are going completely mental over it, but they aren't without good reason.
Audiosurf is an independent game (one of a new breed that is gaining more and more mainstream attention) which is beautifully simple – well, perhaps 'elegant' is the better word – and propped up by one single, wonderful gimmick: It takes any piece of music you throw at it and maps the level based on all the different elements of that music. It's certainly something that grabs your attention, isn't it? However, the devil is most definitely in the detail, and you realise very soon after firing up the game that the detail is FUCKING BRILLIANT.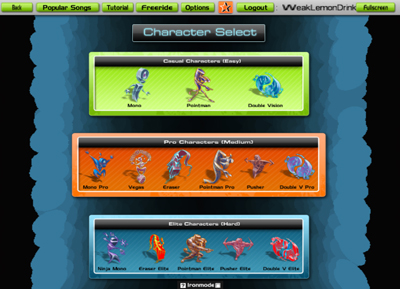 Before I get onto the way music integrates with the game, let me quickly sum up the gameplay rules: Collect and drop blocks into stacks made of blocks of the same colour. In fact, imagine a cross over between Klax, Guitar Hero and Wipeout and you're not far off Audiosurf. Some game modes require you to collect a single colour of block while avoiding greys, others need you to pick from a number of colours to match together in your 'stack' and further game modes gives you specific manipulation tools for the blocks. That's the general gist.
The crux being, of course, that the block placement (or 'traffic') and the entire track is entirely based on your selected music. As far as I can tell, the beat is transferred to bumps in the road and block placement and the rhythm controls the speed and broader shape of the track. Give it slow music and the track will slope upwards with a relaxing pace, but give it fast music and the track will shoot down like a bastard, giving you a much shallower viewing angle and basically be intense as fuck.
The end result is a truly brilliant and exhilarating experience. There must be something wired into the human brain that gives it immense joy to see music they know inside out being so beautifully crafted into a world you can play in.
(I can't really say much more about this element of the game, as the old cliché of 'you have to experience it to get it' annoyingly applies here. Don't let the amount of criticism I'm about to give it put you off, though. The music integration dominates this game and is by far the most important aspect.)
However... it's certainly not without its faults. The concept is definitely king in this game, and the only actual goals given to you seem to be to beat people on the scoreboard. Which is fine, but it can lead to the ultimate feeling that you're not really playing towards anything meaty. The game obviously tries to rectify this with 14 game modes to play with, but this just leaves the game feeling over crowded on top of being directionless. Personally, I would've loved to see some form of single player mode that would take you through the various difficulties and game modes giving you a large number of set goals to work through. There's a glimmer of this with the Achievements, but they number at a paltry 11 and there's nothing in there that would serve as meaningful acknowledgement of progression - they're just seemingly arbitrary goals chucked in there to show off the fact they've used the Steamworks framework.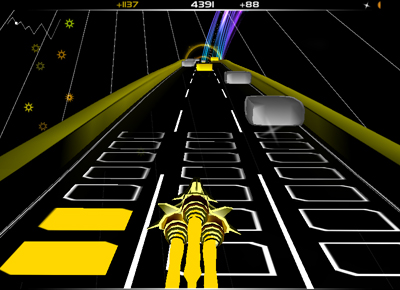 At the time of writing (and, to be fair, it's only been out for a few days) the High Scores servers have been an absolute mess and failing to record high scores for what seems like most of the time, which since the only goal in the game is to get onto those tables is a bit of embarrassment. I'm sure they'll be upgraded back online and ready to take the strain soon, though. This game certainly deserves a stable framework, and when something as robust as Steam is sitting behind it, it seems baffling that more of its capacity isn't being used to beef up the game's back end.
Speaking of which, I think it's fair since before now I've been assuming knowledge of Steam to assume ignorance for a moment. Steam was originally a tool developed by Valve (developer of the magnificent Half-Life series) to serve two purposes. The first was as a means to cut out problematic publishers in the releasing of its new game Half-Life 2 and the second was to provide a new platform for the hosting, listing and using online multilayer servers - replacing the old WON network. I'll talk about it more in a future edition, but the long and short of it is that you NEED to install Steam in order to play Audiosurf and indeed a great number of other games (although these are mainly indie games bought up by Valve or Valve games themselves.) The boldness of this concept still amazes me today and as you can imagine, the it still rankles with a great many people, but I think with the recently beefed up Community system and the alarming number of developers signing up to use it, it could be a very important factor in the uniting of PC gamers. It's certainly more effective that Games for Windows Live, that's for god damn sure.
I shall leave you with some useful links. See you next time.